Finding Inspiration In the Fallen
She was a Roosevelt democrat and a civil rights activist. That was the final sentence in my grandmother's obituary. And, seeing it in the paper somehow made me flash back to when I was a little girl and she and my grandfather would take me with them to collect newspapers to recycle. In Tucker, Ga. Before it was cool to be green and people in the South didn't really understand why we wanted their old reading material. My memories flashed forward and I remembered and blushed at how I cringed when, at my wedding rehearsal dinner, she went around and asked our guests for their leftovers to take home to her dog. She was always doing that, taking home the smallest of orts in wrappings that she seemed to keep stuffed in her purse for just that opportunity.
Living through the depression affected my granny and her generation in ways that weaved into their very being. She eventually settled in Atlanta, Ga. and worked with activists there to shape the future that they wanted for their children, a place where quality was common place and diner counters weren't reserved for whites only. Her red hair seemed to personify the fiery spirit inside of her. And, when I went home to attend her funeral, I choked back tears as her friends and our family gathered to reminisce about her and her exploits in a small town that she always seemed a little bit out in front of.
It had a different feel to it than my grandfather's funeral, which I also attended a few weeks ago. A retired Naval officer, he had an honor guard and my aunt and father had flown in Hawaiian leis, as my grandfather had been stationed there once upon a time and "Da," as we called him, had taken to both the ukulele and tropical dress shirts. A friend from U.S. Naval Academy's class of '48, spoke about Da's commitment to his country and classmates and how he and my grandmother would host pool parties every year in order to keep up with everyone and their growing families. Da was one of the driving forces behind my own desire to join the Navy when I was a little girl. He was the one who swore me in and I used his sword to cut the cake at my wedding. He was a principled, kind man who served his country, raised a family and loved my grandmother so much it shone in his eyes when he even just glanced at her. I can only hope my husband looks that way at me after 50 years together.
Our community, our military community, has been through a lot in the past 10 years of these wars. And the recent deaths of so many at once has been a terrible blow at a time when many are already struggling to deal with fatigue and are – to put it bluntly – bone tired. Tired of death. Tired of bad news. Tired of separations, reintegrations and countdowns. Humbled at the devastation of families and lives cut short, lives of men and women who made this world a better place when they were here.
So my reaction to the terrible tragedy of the downed CH-47 Chinook, the single deadliest incident for our service members since the start of the war, has been somewhat impacted by the fact I've been dealing with the recent loss of two grandparents and struggling to resolve my emotions and thoughts about life and death. As a military family member, there is always an imminent presence of the possibility of death. In some ways, planning for its possibility is a coping mechanism, as it allows us to feel like we have control of something, anything. But we know, deep down, that is an illusion. And yet still, the desire of our family members to serve their country and their fellow citizens continues to drive them into harm's way. There are some people who are willing to go through extreme self-sacrifice in order to serve a higher purpose than themselves. And, I thank God for them.
These are the type of people who serve their communities quietly, behind the scenes. Or, maybe make noise and stir up the status quo. But the thing they all have in common is the legacies they leave behind. Really, that is the only tangible thing any of us leave behind. Everybody dies. But not everyone leaves behind lasting change. In the end, what you did to impact the lives of others will be your legacy more than what clothes you wore, what car you drove, or even how big your house was. These are the realizations that have helped me to cope and bring comfort in the face of so much tragedy these past few weeks.
I think there is also a challenge there, to those of us here who are left missing our fallen friends and family members, to honor their memories, their own service, with a commitment to carry on their legacy of service. To strive to be a force for good in our own lives, and perhaps, give a little more than we are comfortable with, knowing that they did the same. We can never truly repay the debt we owe to those who have given up their very lives in pursuit of our way of life, so that we may continue to live and prosper without fear. However, their legacies of service, and our desire to keep a piece of them here with us, must inspire us to make their sacrifice worth it.
Vivian Greentree is the Research and Policy Director for Blue Star Families. To contact Vivian, send her an email at vgreen00@gmail.com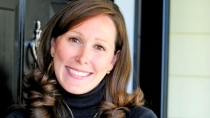 Vivian Greentree Bio
Vivian is married to a Naval Flight Officer, who recently returned from a Global War on Terrorism Support Assignment (GSA) in Iraq.
Learn More
---